Please use this screen to post all your journal entries.

While processing journal entry please make sure debit and credit amount will always be same and each line will have either debit posting or credit posting.
Select Branch : Please enter the branch name here. For all branches select ALL from the drop down. If you are a single branch company, company name will always appear here, you don't have to select anything here.
Posting Date: Please enter the date when you are posting this journal entry.
Account Description: Please type or select the G/L account name. Type *.* to select the G/L account from all existing G/L accounts in the system.
Debit/Credit : If it's a debit posting then please enter the amount in the debit side and use credit column for credit posting.
Notes : Please use notes field to document the reference details for that journal entry. This field is mandatory.
Total: This line will display the total amount entered in debit and credit side of this journal entry.
If you need to use more than two G/L accounts in a single journal entry, please click on the icon next to each line to add a new line.


You can also delete a line by clicking on delete icon.
Once you enter required details, please click on CREATE JOURNAL, journal entry will be created successfully.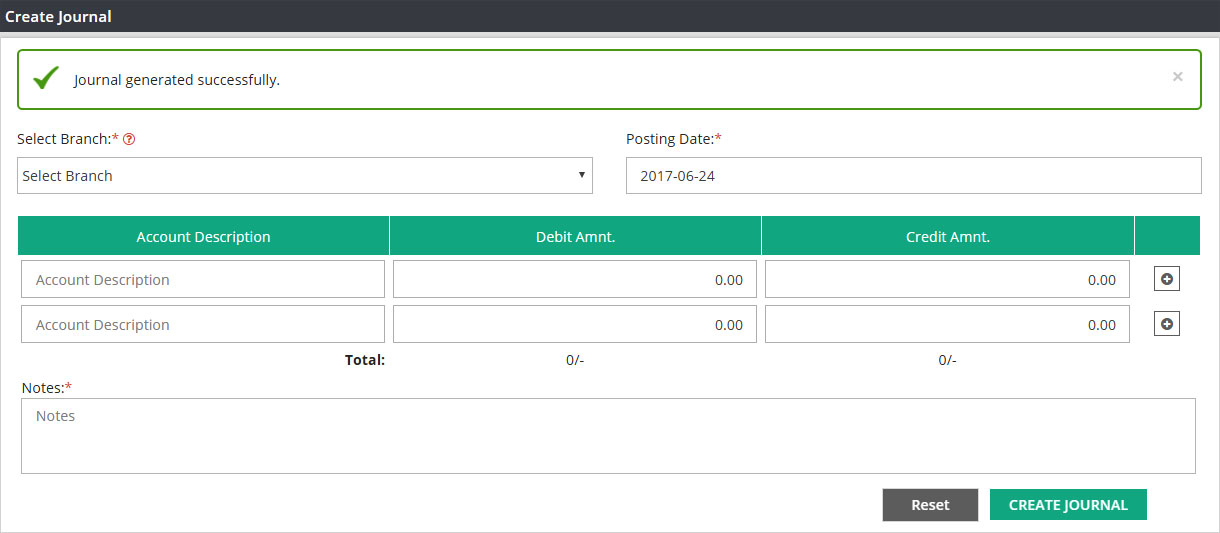 Related Links:
Balance Sheet
Business Summary
Create/Edit Ledger
G/L Enquiry
Profit & Loss Income Statement
Trial Balance
View Journal