You will be able to see and download all your open sales order/quotations/bids which you have created in "create invoice/quotation" screen and not been invoiced or billed the customers yet or you have created the sales order but never shipped the material to them. As soon as you open this screen, all the open sales orders will display, you can narrow down your search using SO ID, Customer Name and Branch Name.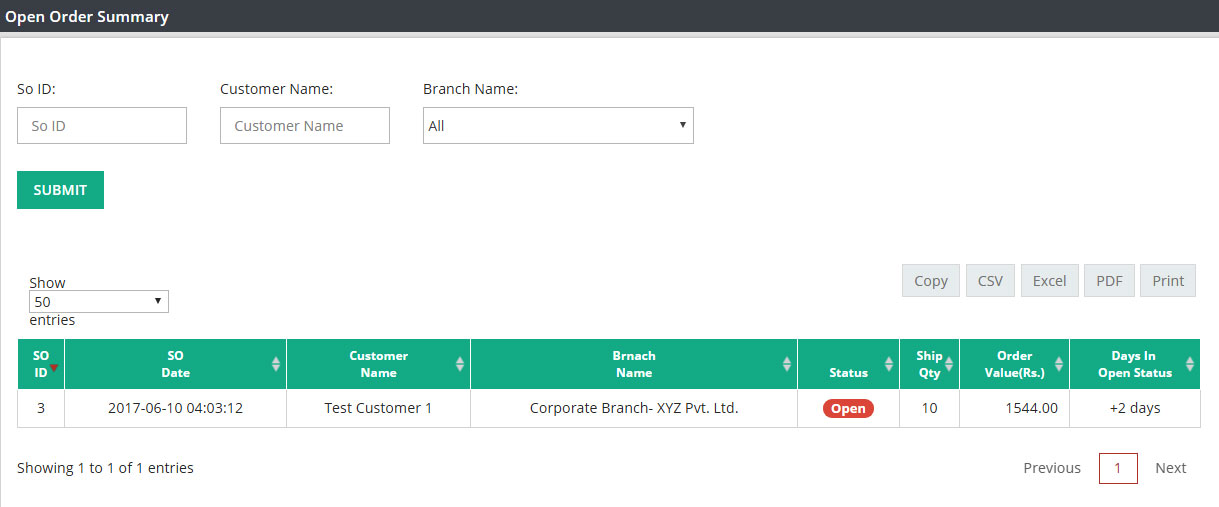 SO ID : Please enter the sales order ID if you want to see any particular open order.
Customer Name : If you want to see all open sales orders for a specific customer, please select the customer name here. For all customers keep this field blank.
Branch Name : If you are a single branch company please ignore this screen. If you are a multi branch company then please select the branch name when you want to see open sales orders for a branch. For all branches, select ALL.
Once you are done with the selection, please click on SUBMIT.
Data will display with following column headings :

SO ID : This column will display sales order number.
SO Date : Date when the sales order was created.
Customer Name : Name of the customer will appear here.
Branch Name : Name of the branch where this sales order was created.
Status : Status field will always display "Open".
Ship Qty : Total quantity which you have added in the order.
Order Value : Order total including tax and S&H charges will display here.
Days in open status : This field will tell us since how many days this sales order is in open status. Days will be calculated based on sales order creation date and current date.
Note : This is a view only screen, if you need to make changes to any of these open orders, then please go to manage invoice/quotation screen.
You can control the total number of transaction to display on the screen by selecting the number through "Show" drop down box.
If you want to copy, download or print the data from this screen, then please click on Copy/CSV/Excel/PDF or Print.
Related Links:
Create Invoice/Quotation
Manage Invoice/Quotation
Product Sales Summary
Sales Register
Sales Return Summary