Receivable summary will produce the data to identify the total amount which you will receive from your customers. Invoices for which you have already delivered the materials and have not received the payment from them yet.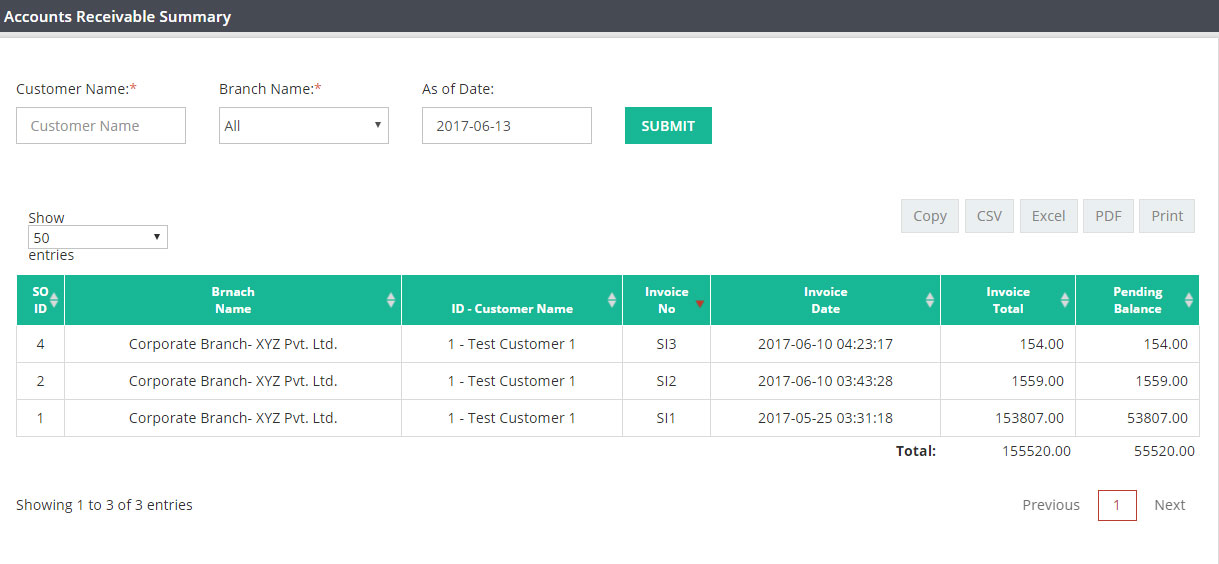 Customer Name : You can view the receivable details for a particular customer or for all the customers.
Branch Name : If you are a multi branch company you can select the branch to get the branch wise details as well.
As Of Date : Please enter the date.
You can also control the total number of transactions to display on this screen or report by selecting the number through "Show" drop down box. Example-50, 100 etc.
If you want to copy, download or print the data from this screen, then please click on Copy/CSV/Excel/PDF/Print
This screen will display the data with following details :

SO ID : Sales order ID will display here as a reference to invoice number.
Branch Name : Sales branch name.
Customer Name & ID : Customer who bought the material from you.
Invoice Number : Invoice number which has been billed to customer.
Invoice Date : This column will display invoice date.
Invoice Total : Total invoice amount / total billed amount.
Pending Balance : If invoice is partially paid then pending balance will display here else the same amount from invoice total column.
Related Links:
AR Ledger Summary
AR Receipt Summary
Invoice Aging Summary
Paid Invoice Summary
Receiving Payment